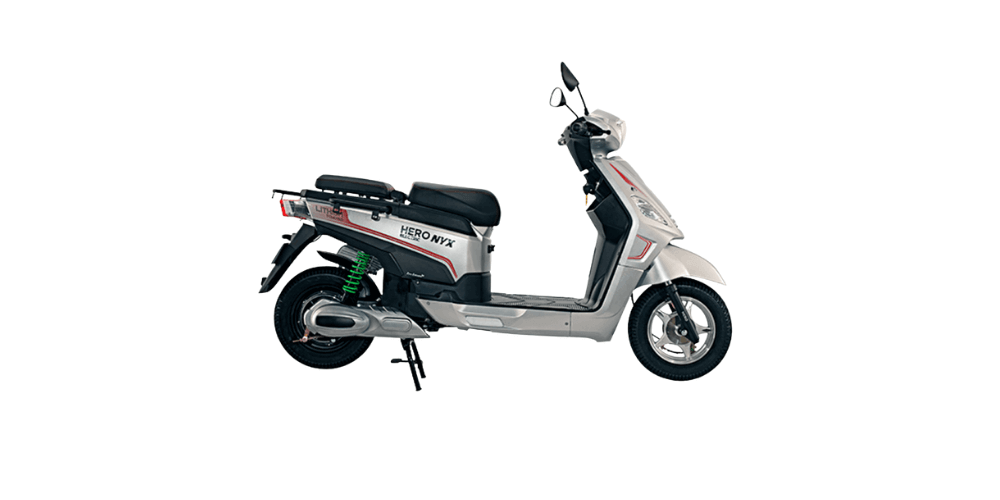 Version
Optima LX (VRLA)
NYX HX Dual Battery
Atria LX
Dash
Flash LX
Flash LX VRLA
Optima HX Dual Battery
Photon 48V
Photon HX
Available In
Chennai
New Delhi
Mumbai
Ahamadabad
Pune
Hyderabad
Hero Electric NYX LX's Key Specification
Range
85km
Top Speed
25kmph
Charging Time
4-5 hour
Acceleration
N A
Motor Power
250 Watt motor power
Battery
51.2v/30Ah Lithium-Ion battery
Battery Swapable
Yes
Home Charger
Free
App Availability
Yes
Warranty & Registration
Motor Warranty
N A
Battery Warranty
3Years in ride mode.
Vehicle Warranty
N A
Charger Warranty
N A
License & Registration
Required
SCOOTER DISCONTINUED
About Hero Electric NYX LX
Hero Electric NYX LX is a low-speed electric scooter. It comes with a Telescopic suspension on the front side, Anti- Theft Alarm, Passenger footrest, low battery indicator, Alloy wheels, Bottle case, and LED Headlamp. It has a Drum brake with Combi Brake System, automatic transmission, and pass switch button.
Available States and Cities
Hero Electric NYX LX scooter is available all over South India states like Andhra Pradesh, Karnataka, Kerala, Tamil Nadu, Telangana, and Northern states like Punjab, Haryana, Delhi, Rajasthan, Uttar Pradesh, and UT Chandigarh. Also, East India states like Bihar, Jharkhand, Orissa, West Bengal. Besides Central India states like Madhya Pradesh and Chhattisgarh and Western India states like Goa, Gujarat, Maharashtra.
Hero Electric NYX LX Price
NYX LX is available at starting price of Rs. 68999 in India.
Colour options of NYX LX
Here you get 2 different attractive colors:- Black and Silver.
Variant of Hero Electric NYX LX
This is the updated version of Hero Electric NYX. It does not have its variant.
Battery Capacity details
Hero Electric NYX LX has come with a capacity of 51.2v/30Ah with a Lithium-ion battery. It takes around 4-5 hours for a full charge. You can charge it at your home. It also comes with a portable battery.
Range and speed of Hero electric NYX LX
The ARAI has claimed it can travel a riding range of around 85 km in a single charge with a top speed of 25 km/h. This electric scooter accelerates quickly.
Motor and Power of NYX LX
Hero Electric NYX LX electric generates around 250 W power from its BLDC Motor and powerful Hub motor mounted on the rear wheel and the Motor is waterproof.
Display and Screen Hero electric NYX LX
Hero Electric NYX LX electric scooter comes with a digital display with a digital console. It has a waterproof display and Odometer. Also, it has a Speedometer which gives speed information.
Rivals of Hero Electric NYX LX
Subsidies and Tax exemption on NYX LX
There is no official announcement.
License, Registration, and Insurance
NYX LX doesn't require a license, registration, and third-party insurance as it comes under a Low-speed electric scooter where the top speed is 25 kmph and motor power is 250 W.
Warranties on Hero NYX LX
This electric scooter provides you 3 years warranty for your battery. The scooter has an in-built charger, and the vehicle can be charged by plugging into a regular 5 ampere of the home power outlet.
Servicing of Hero Electric NYX LX
The company provides 3free servicing for a Hero Electric NYX LX scooter. But you will have to get the service done on time. You cannot skip that date given to you by the service center. If not received, do so on the given date and some parts get damaged under warranty. Then you will not be able to claim the warranty.
Hero Electric Model Price
Hero Electric NYX LX's Owner Opinion
Good Things
USB Port to charge mobile.
Reasonable Price.
Range of 85 km.
No License and Registration Require.
Removable battery.
Could be Better
Poor Built quality.
Small tires.
Sometimes charger stop working.
Speed like cycle.
Speedometer and Kilometer reading not appropriate.
Hero Electric NYX LX's Specifications
Hero Electric NYX LX Competitors
Running Cost Calculator
Use this Electric Bike Electricity Cost Calculator to find out the cost it will take to charge for your electric bike. To calculate your monthly fuel costs, you only need to input the kms you travel in a day, enter the cost of fuel in your local area.
Your monthly running cost is
Rs. 79
per month