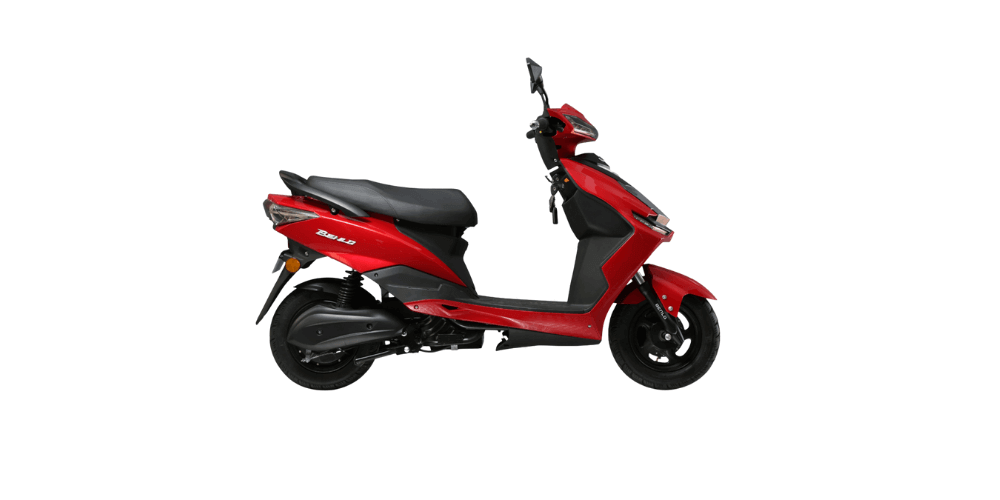 Benling Falcon

Ex-showroom price
Review & win 2000
64,000
*
Get On Road Price
Benling Falcon's Key Specification
Range
70-75kM
Top Speed
25 KMPH
Charging Time
4Hrs(Li-Ion),7-8Hrs(VRLA)
Acceleration
---------
Motor Power
250 Watt
Battery
Lithium Ion & VRLA
Battery Swapable
Yes
Home Charger
Free
App Availability
No
Benling Falcon's Key Specification
Range
70-75kM
Top Speed
25 KMPH
Charging Time
4Hrs(Li-Ion),7-8Hrs(VRLA)
Acceleration
---------
Motor Power
250 Watt
Battery
Lithium Ion & VRLA
Battery Swapable
Yes
Warranty & Registration
Motor Warranty
30 Month
Battery Warranty
3 Year
Vehicle Warranty
3 Years
Charger Warranty
1 Year
License & Registration
Not Required
Warranty & Registration
Motor Warranty
30 Month
Battery Warranty
3 Year
Vehicle Warranty
3 Years
Charger Warranty
1 Year
License & Registration
Benling Falcon overview
Benling Falcon is a low-speed electric two-wheeler which means it does not require registration and license. It is equipped with some advanced features like Regenerative Braking System, Anti Theft Protection Alarm, Smart Breakdown Assistance, USB Port for Phone Charging, and DRL'S Head Lamps.

The suspensiion duties handled by Telescopic suspension for a smooth ride. With front disc and rear drum brakes, Benling Falcon comes up with combined braking system of both wheels. Further this it has Smart key,Push Start/Stop Button Smart Breakdown Maintenance System,
smart digital meter, and smart parking assist.
Benling Falcon Price
Benling Falcon is available at starting price of Rs. 64,000 in India.
Colors of Falcon electric scooter
Falcon electric scooter is available in 3 attractive colors:
Pure White
Matte Black
Shiny Red
Variants of Benling Falcon
Falcon electric scooter has only 2 variants first is falcon LA which comes with a lead acid battery at starting price of Rs. 64,000 and the second is falcon LI which comes with a lithium-ion battery at starting price of Rs. 70,663 and both have similar specifications and features.
Range and Speed of Benling Falcon
The ARAI has claimed it can travel a riding range of 70-75 km on a single charge with a top speed of 25 kmph. But multiple falcon owners with whom our team spoke reported a 60 km riding range of falcon.
Battery and Charging Details
Falcon LA comes with a 60V/20Ah*5 lead acid (VRLA) battery while falcon LI comes with a 60V/22Ah lithium ion detachable battery. Benling India provides 2.5 A (VRLA), and 6 A (Li-Ion) fast portable chargers and it can charge lead acid (VRLA) batteries within 7-8 hours and lithium-ion batteries 0 to 100 within 4 hours.
Motor and Power
Benling falcon electric scooter generates 250 watts, 60V rated power from its Brushless Motor that has mounted on the rear wheel.
Display and Screen Details
Falcon scooter comes with a digital meter in which you get to know the status of the battery. Also, it has a speedometer which gives speed information. Apart from this, there is a tribometer that informs how many kilometers your scooter has covered.
Rivals of Benling Falcon
License, Registration, and Insurance
Benling Falcon is a Low-Speed scooter that doesn't require a driving license, registration, or insurance.This statement is given by the company, in reality, scooter has 4 Modes and 4th mode can reach a speed of 45 kmph
Warranty on Benling Falcon scooter
The Company provides 3 years warranty on the lithium-ion battery pack after the purchase benling falcon electric scooter and the life of the battery will be 6 years as per the company.

It has also 30 Month's warranty on Brushless Motor.

Along with it has only a 1-year warranty that is for a non-fast charger.

Company provides a 2-year warranty on the controller.
Subsidies and Tax Exemption on Falcon
Benling Falcon is a Low-speed scooter, so Falcon is not eligible for FAME subsidy or any other subsidies.
Benling Falcon's Owner Opinion
Good Things
Fast charging in 4 HRS
Decent plastic quality
Illuminated key hole
Auto lock
Good suspension
Could be Better
Single side footrest
Boot space with less space
Small tyres
No parking mode
No side stand sensor
Note: These Pros and Cons are based on real benling falcon owners to whom our team has spoken.
Benling Falcon's Specifications
Additional Features
Smart key Push Start And Stop Button Smart Breakdown Maintenance System smart digital meter smart parking assist Integrated Locking System Regenerative Braking System mobile charging point Anti-theft alarm. Available with DRL headlamp
Benling Falcon Competitors
Running Cost Calculator
Use this Electric Bike Electricity Cost Calculator to find out the cost it will take to charge for your electric bike. To calculate your monthly fuel costs, you only need to input the kms you travel in a day, enter the cost of fuel in your local area.
Your monthly running cost is
Rs. 79
per month