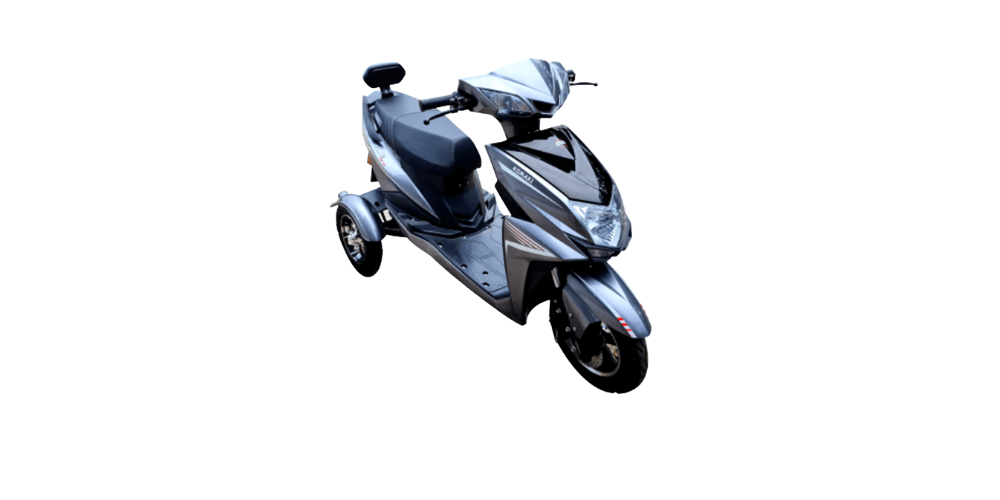 Version
Komaki SE
XGT
TN 95
XGT X1
XGT KM
XGT X3
XGT X4
Available In
New Delhi
Mumbai
Ahamadabad
Pune
Chennai
Komaki XGT X5's Key Specification
Range
70-85 KM
Top Speed
25 kmph
Charging Time
4-5 hours
Acceleration
(0-40 kmph) 10 s
Motor Power
250 Watt
Battery
Lithium Ion
Battery Swapable
Yes
Home Charger
Free
App Availability
No
Warranty & Registration
Motor Warranty
1 Year
Battery Warranty
3 Year
Vehicle Warranty
1 Year
Charger Warranty
1 Year
License & Registration
Not Required
About Komaki XGT X5
Komaki XGT X5 is an electric scooter with low speed. It is specially designed for elderly and Physically Handicapped people. Considering the physically challenged people, it has been given a lot of safety features such as Anti Theft Lock, Emergency Repair Switch, Reverse Mode, and Vivid Smart Dash. Along with this, you get Bis-wheels to Enhance stability function, SBS for batter safety, Telescopic fork, LED Headlamp, LED DRLS, step gear button, and service button. It has also a boot space in that you keep a helmet and a battery easily. in this you get some advanced features like multiple sensors, wireless function, self-diagnosis, and updatable features.it has a disc brake on both sides with regenerative braking.
Available States




This E-scooter is available in all states in India.
Komaki XGT X5 Price
Komaki XGT X5 is available at starting price of Rs. 72,500 in India.
Colours options
Komaki XGT X5 comes in 2 colors.
Garnet Red
Super metal Grey
Variants of Komaki XGT X5
This is available in 2 variants – Komaki XGT X5 Gel and KOMAKI XGT X5 72 V, 24 Ah.



Range and Speed of Komaki XGT X5
The ARAI has claimed it can travel a riding range of 80-90 km in a single charge with a top speed of 25 kmph. from a Lithium-ion battery, you will get a speed of around 75-85 km/c and 60-70 km/c from a gel battery. Per charge, it consumes about 1-1.5units.
Battery and Charging Details
The Komaki XGT X5comes with a 72V 24AH lithium-ion battery.it gives you a portable charger for home charging and it takes around 4-5hours for a full charge. It has a fixed battery set up.

Motor and Power
Not available at this time.
Display and Screen Details
Komaki XGT X5 comes with digital technology. in this, you will get Anti Theft Alarm, Digital Console, and a USB charging port. Also, it has a speedometer which gives speed information.
Rivals of Komaki XGT X5
Komaki XGT X5 has more rivals like Ola Electric S1, Bajaj Chetak, Komaki SE, AMO Electric Jaunty,iVOOMi City, Evtric Motors Ride, Evtric Motors Axis, Poise NX 120, Warivo Motors Smarty, Viertric V4 Mist.
Subsidies and Tax exemption on Komaki XGT X5
Centre Government:

No Subsidy for Komaki XGT X5.
State Government:

No Subsidy for Komaki XGT X5.
License, Registration, and Insurance
Komaki XGT X5 do not requires a license, registration, and third-party insurance as it comes under a low-speed electric scooter. It has a speed limit of 25 kilometers per hour.
After-sales Service and Support
Buying Guide of Komaki XGT X5
What are the criteria you need to check before buying a Komaki XGT X5 aura electric scooter, and what are the things to keep in mind while purchasing so that you can choose the right scooter?

Check Price
If we talk about the price of a Komaki electric scooter, it is slightly higher than a conventional scooter. Mostly it has been seen that due to the battery, its price increases slightly at this time. But the government of India is allotting subsidies and tax benefits to electric scooters under the FAME-II scheme. So that its high price does not change the mind of buyers, for checking the subsidies on your vehicle, you should check the ex-showroom price and check whether the central government has allotted any FAME-II subsidy or not.
Also, check whether the state government is giving any subsidy in your state, and you should check the road tax exemption. After all, you should check the on-road price in which you should check for what things are being charged for the final price.
Check Range and Top Speed
You should check the range of the Komaki electric scooter. It means how many kilometers it can run in a single charge. The range of electric scooters is one of the major aspects to look out for. A good electric scooter should have a good range that should suffice your's daily commuting needs.
You should also check the speed of the electric scooter, which means how fast the scooter can go per hour. Many electric scooters have good speed while many scooters have not good speed.
Check Battery and Power
Battery make a major role in your Komaki electric scooter. You should also check the type of battery of the electric two-wheelers. There are 2 types of battery mostly used for an electric scooter. Lead-acid (VRLA) battery and lithium-ion battery, but the modern battery is lithium-ion. This battery provides a good range along with an excellent top speed. It can easily provide a range of 75km with a top speed of 90kmph above that would satisfy your daily needs. You should also check the battery pack warranty that the scooter comes with for how many years warranty.
Check Motor Power & Torque
You should check the motor power rating and torque of the Komaki electric scooter. All electric scooters have a motor power rating available in units of watts. The motor watts indicate how much power the motor is capable of consuming. The motor also make a major role in your electric scooter. It decides top speed, acceleration, climbing ability, power consumption, and performance. All electric scooters have one motor, while high-performance scooters have two. Torque force rotates your electric scooter's wheel and propels you forward. Also, Check how much torque it generates so that you get good acceleration. You should also check the motor warranty that the scooter comes with for how many years warranty.

Check Charging Option
Charging the Komaki electric scooter is also one of the crucial parts. Most electric scooters take less time, while some scooters take much time to charge the vehicle. If you buy an electric two-wheeler, the automaker provides a home charger. But there is one thing that you should check the location where you live is if there is any public charging station available. Think that you need a public charging station or home charging station is enough for you.



Check Dust & Water resistance
Lastly, check the IP rating of the Komaki electric scooter to know its water-resistance because all-electric scooters are not water and dust-resistant, and it is not advisable to ride them in the rain. The IP rating is called the "International Protection" (IP) code. The IP rating should be IP65 or IP67, and this type of IP rating is ideal. This type of rating is safe to drive during the rainy season, and you can save your vehicle from breakdown during riding during the rainy season.
How does Komaki XGT X5 Scooter work
The power source of an electric scooter is the battery. The motor gives the drive.
The controller of an electric vehicle receives an electric pulse from the throttle (Switch/Sensor) and allows the electric current to flow from battery to motor. The motor hub rotates at speed based on the motor's current input.
The electronic controller draws power from the onboard battery to operate the hub-mounted motor during acceleration.
During deceleration or braking, the motor converts the braking energy into electrical energy, thus charging the battery.

Final Thoughts
Finally, we will suggest that if you are going to buy Komaki XGT X5, then check the build quality of the scooter, take a test drive of the vehicle, ask the showroom representative about the maintenance that when you need to do the maintenance, how to do it and how much it will cost for servicing after verified everything if you think you are comfortable with it only then decide to buy.


Komaki XGT X5's Owner Opinion
Good Things
Comfortable sitting.
Helmet and Battery space.
It takes 4 to 5 hr for the full charge.
Premium look.
It has a double saucer.
Premium look.
Could be Better
Do not have the subsidy.
Motor power of 60 V.
USB port not available.
Only for the disabled person.
Komaki XGT X5's Specifications
Komaki XGT X5 Competitors
Running Cost Calculator
Use this Electric Bike Electricity Cost Calculator to find out the cost it will take to charge for your electric bike. To calculate your monthly fuel costs, you only need to input the kms you travel in a day, enter the cost of fuel in your local area.
Your monthly running cost is
Rs. 79
per month
Reviews of Komaki XGT X5
Stylish and full of power having beautiful sound and a good looking body design. Must buy this scooter.
Visual Appeal

Reliability

Performance

Comfort

Service Experience

Maintenance cost

Extra Features