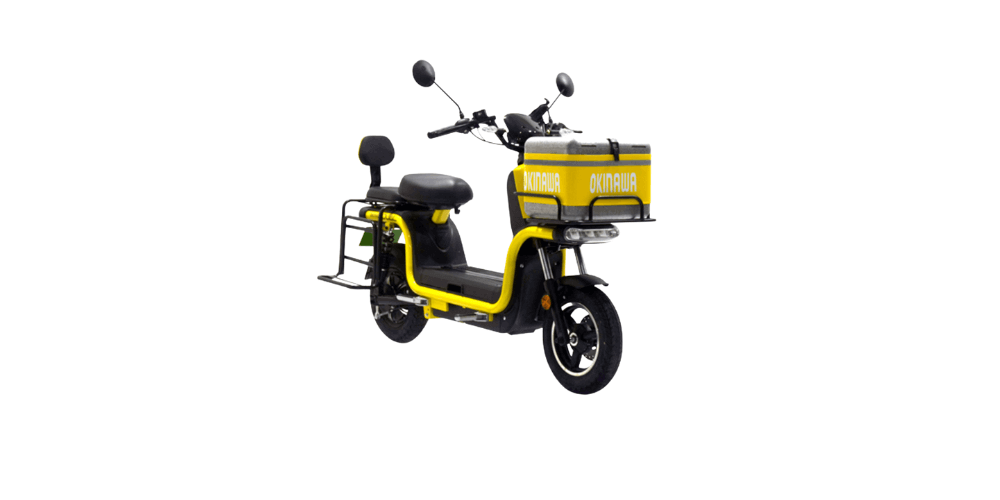 Okinawa Dual

Ex-showroom price
Review & win 2000
79,813
*
Get On Road Price
Version
iPraise Plus
Praise Pro
Ridge Plus
Cruiser
Raise
Lite
R30
Praise
Available In
New Delhi
Pune
Udaipur
Gaya
Nellore
Tirunelveli
Siliguri
Ujjain
Ajmer
Kolapur
Nagpur
Durgapur
Asansol
Cuttack
Ranchi
Gorakhpur
Allahabad
Bhubaneswar
Chennai
Okinawa Dual's Key Specification
Range
110-120Km
Top Speed
25kmph
Charging Time
4-5 hrs
Acceleration
N A
Motor Power
250 Watt motor power
Battery
48 V/55 Ah Battery.
Battery Swapable
Yes
Home Charger
Free
App Availability
Yes
Okinawa Dual's Key Specification
Range
110-120Km
Top Speed
25kmph
Charging Time
4-5 hrs
Acceleration
N A
Motor Power
250 Watt motor power
Battery
48 V/55 Ah Battery.
Battery Swapable
Yes
Warranty & Registration
Motor Warranty
3 Years
Battery Warranty
3Years
Vehicle Warranty
N A
Charger Warranty
N A
License & Registration
Required
Warranty & Registration
Motor Warranty
3 Years
Battery Warranty
3Years
Vehicle Warranty
N A
Charger Warranty
N A
License & Registration
Okinawa Dual overview
Okinawa Dual is a low-speed electric scooter. This scooter has been discontinued. For safety, this provides you Disc brake at the front and a Drum brake at the rear side. Okinawa dual comes with an Anti-theft alarm, Remote key function, USB port, Side stand sensor, Pillion footrest, carry hook, and Alloy wheels with a tubeless tire.

On the front side, you get Telescopic suspension and dual coil spring-type Hydraulic shockers on another side. Also, you get a Push Button Start, Automatic transmission, LED headlight with DRLS, and LED tail light. This Cargo scooter is specially made for vendors and delivery.
Okinawa Dual Price
Okinawa Dual is available at starting price of Rs. 61,998-82,995 in India.
Color options
Here you get 2 different types of colors to choose from:-
RED, LIME GREY.
Variants of Okinawa Dual
It has 3 variants :-
Okinawa Dual 48v,28Ah (Rs. 61,998)
Okinawa Dual48v, 35Ah (Rs. 72,996)
Okinawa Dual 48v, 55Ah (Rs. 82,995)
Range and Speed of Okinawa Dual
The ARAI has claimed it can travel a riding range of around 120-130 km on a single charge, with a top speed of 25 km/ch.
Battery and Charging Details of Okinawa Lite
Okinawa dual has come with a capacity of 48v/55Ah with a lithium-ion battery. It takes around 4-5 hours for a full charge. you can charge it at your home and at a charging station. . Per charge it consumes about 1-1.5units.
Motor and Power
Okinawa dual electric generates around 250W power from its BLDC Motor mounted on the rear wheel.
Display and Screen Details
Okinawa dual is a digital e- scooter. Here you get a charging point. It has a digital console It gives you a digital clock to track the time. Also, It has a Speedometer that gives you speed information.
Rivals of Okinawa Dual
Subsidies and Tax exemption on Okinawa Dual
The government doesn't provide subsidies on the low-speed scooter with a Motor power of 250 w.
License, Registration, and Insurance
Okinawa Dual doesn't require a license, registration, and third-party insurance as it comes under a Low-speed electric scooter. It has a speed limit of 25 kilometers per hour and a Motor power of 250w.
Warranty on Okinawa Dual
This electric scooter provides you a 3years warranty for your battery and the Vehicle.

It gives you a 3 years warranty for your power motor.

Okinawa dual provides you with a 1-year warranty for your charger

This electric scooter provides you with a 3years warranty for your controller.
Okinawa Model Price
Models
Ex Showroom Price
iPraise Plus

On Road Price

1,45,956
On Road Price
Praise Pro

On Road Price

99,645
On Road Price
Ridge Plus

On Road Price

76,285
On Road Price
Cruiser

On Road Price

1,00,000
On Road Price
Raise

On Road Price

43,990
On Road Price
Lite

On Road Price

66,993
On Road Price
R30

On Road Price

61,998
On Road Price
Praise

On Road Price

75,000
On Road Price
Okinawa Dual's Owner Opinion
Good Things
USB Charger to charge mobile.
The instrumental panel can be read at daylight.
Carrying capacity of 200kg.
ARI/ICAT Approved.
Decent Charging time.
Could be Better
Non Removable battery.
The company do not respond to the complaint.
Overpriced.
Handle lock doesn't work properly.
MCB Get off automatically.
Note: These Pros and Cons are based on real Okinawa Dual scooter owners to whom our team has spoken.
Okinawa Dual's Specifications
Additional Features
Push type Pillion Footrest, Detachable Battery with Locking mechanism, Parking Mode, Remote On Function,
News of Okinawa Dual
There is something very cute about the Okinawa Dual...
Okinawa's Dual Scooter carries the convenience of charging anywhere with our Detachable Batteries. T...
Running Cost Calculator
Use this Electric Bike Electricity Cost Calculator to find out the cost it will take to charge for your electric bike. To calculate your monthly fuel costs, you only need to input the kms you travel in a day, enter the cost of fuel in your local area.
Your monthly running cost is
Rs. 79
per month