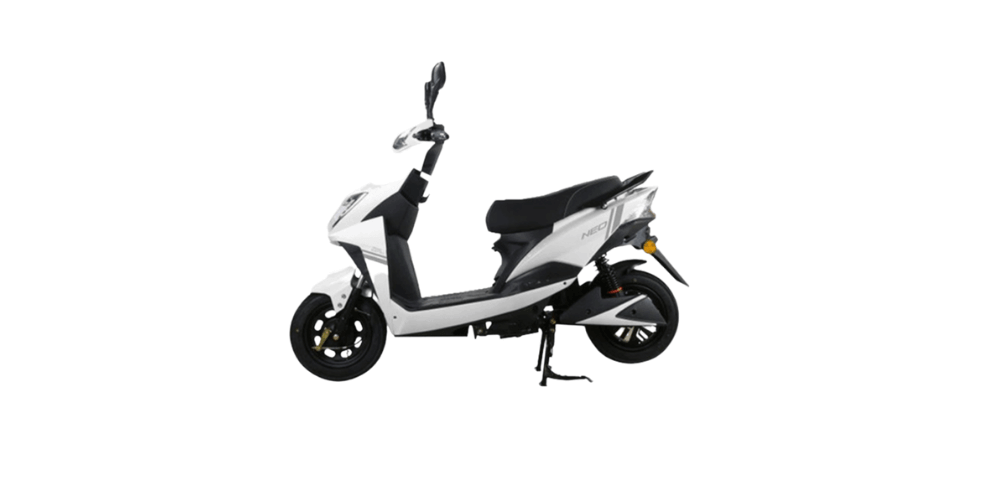 Techo Electra Neo

Ex-showroom price
Review & win 2000
41,557
*
Get On Road Price
Techo Electra Neo's Key Specification
Range
55-60 km/charge
Top Speed
25 Kmph
Charging Time
2.5-4 Hrs
Acceleration
(0-25 kmph) 3.9 s
Motor Power
250 Watt
Battery
Lithium Ion
Battery Swapable
Yes
Home Charger
Free
App Availability
No
Techo Electra Neo's Key Specification
Range
55-60 km/charge
Top Speed
25 Kmph
Charging Time
2.5-4 Hrs
Acceleration
(0-25 kmph) 3.9 s
Motor Power
250 Watt
Battery
Lithium Ion
Battery Swapable
Yes
Warranty & Registration
Motor Warranty
1 Year
Battery Warranty
1 Year
Vehicle Warranty
1 Year
Charger Warranty
1 Year
License & Registration
Not Required
Warranty & Registration
Motor Warranty
1 Year
Battery Warranty
1 Year
Vehicle Warranty
1 Year
Charger Warranty
1 Year
License & Registration
Techo Electra Neo
The Neo is the most affordable electric scooter offering from Pune-based start-up Techno Electra. It generates 250W power from its motor. With both front and rear drum brakes. Techo Electra Neo comes up with a combined braking system for both wheels.
The Techo Electra Neo is a snazzy scooter with sharp creases and a svelte design. In terms of dimensions, the scooter is 1,670mm in overall length, 645mm in overall width, and 1,080mm in height. Furthermore, the scooter has a kerb weight of 51kg and a ground clearance of 150mm.
The scooter has an edgy design language with LED lighting all around. It is certified by ARAI and comes with several features.
FEATURES
Central Locking System

Digital speedometer

Mobile charging

USB port and large boot space

Front and under-seat storage

Digital Odometer
Colour options of Electra Neo
Techo Electra Neo is available in four different attractive colors options:-
Price and Variants of Techo Electra Neo
Techo Electra Neo's price starts at Rs.41, 557 (Avg. Ex-showroom Price) in India. This is available in only one variant – Standard and four colors.
Display and Connectivity System
The Techo Electra Neo scooter features sporty LED headlamp and Taillamp combinations and bulb turn indicator lights. It has a fully digital instrument cluster with an advanced multifunctional digital display system. It gives you Central Locking System with a digital speedometer, Odometer, and Tripmeter.
Brakes, Wheels, and Suspension
For a pleasant ride, the Techo Electra Neo has telescopic fork suspension at front and dual mono suspension at the rear. In terms of safety, the new current electric scooter has drum brakes at both front and rear ends, as well as a standard braking system to enhance road safety. The scooter rides on 10-inch tubeless tires and has a ground clearance of 150mm. This scooter has stylish alloy wheels and tubeless tires which make the scooter lighter and more stable.
Battery and Motor details
The Neo is built around a rigid tubular chassis and is powered by a 250 Watt BDLC Motor that draws its power from a pack of four 12V 20Ah lead-acid batteries. The battery pack takes around 5-7 hours for a full charge, which according to the manufacturer, provides a range of 60-65km.
Competitors of Techo Electra Neo
Warranties on Techo Electra Neo
The company gives you the Battery warranty for 1 years and the motor for a 1-year unlimited mileage warranty. The battery is designed to last 50,000 km. Typically scooters run around 6000-8000 km a year, so chances are that they won't need a replacement for 6-7 years.
Available State in India
The NEO is capturing almost every part of India. Some of the cities are New Delhi, Mumbai, Hyderabad, Chennai, Kolkata, Pune, Chandigarh, Ahmedabad, Agra, Nagpur, Bhubaneswar, Jaipur, etc...
Electric Scooter Servicing
The company provides 3 free servicing for a Honda PCX. But you will have to get the service done on time. You cannot skip that date given to you by the service center. If not received, do so on the given date, and some parts get damaged under warranty. Then you will not be able to claim the warranty. The company has so far appointed 30-40 dealers. Some issues may arise in terms of servicing new companies.
We have a dedicated service team in every city that we sell in. You will get good support from our team because our customer care services are Very reliable and responsive.
Subsidies and Tax exemption on Tech Electra Neo
The government provides subsidies for electric vehicles that have a range of 80kmpc and a top speed of 45kmph. We talk about Tech Electra Neo, which has a range of 50-60kmph and a top speed of 25kmph claimed by the company. According to the FAME 2 subsidy, this vehicle is not eligible. For further details contact your nearest dealer.
LICENSE AND REGISTRATION
You need no license or Registration in India for scooters that have their top speed capped at 25km per hour or have a motor of 250w or lower. However, the Hero Electric Optima HX is powered by a 550 W Hub Motor and the top speed is around 42 kmph, thus it requires a license and registration.
Final Thoughts about Ola S1
Lastly, we would suggest that if you are going to buy an Ola S1 electric scooter, then please follow the below passage;
Check the build quality of the Scooter,

Take a test drive of the vehicle, and

Ask the showroom representative about the maintenance, when you need to do the maintenance, and How to do it.

How much will it cost for servicing after verifying everything?
If you think you are comfortable with it, decide to buy it.
Techo Electra Model Price
Techo Electra Neo's Owner Opinion
Good Things
Bold and attractive look
Value for money
Affordable price
Good after-sales service
Could be Better
Less service outlets
Not so much comfortable
No disc brakes are available
Note: These Pros and Cons are based on real Techo Electra Neo scooter owners to whom our team has spoken.
Techo Electra Neo's Specifications
Techo Electra Neo Competitors
Video of Techo Electra Neo
News of Techo Electra Neo
Running Cost Calculator
Use this Electric Bike Electricity Cost Calculator to find out the cost it will take to charge for your electric bike. To calculate your monthly fuel costs, you only need to input the kms you travel in a day, enter the cost of fuel in your local area.
Your monthly running cost is
Rs. 79
per month