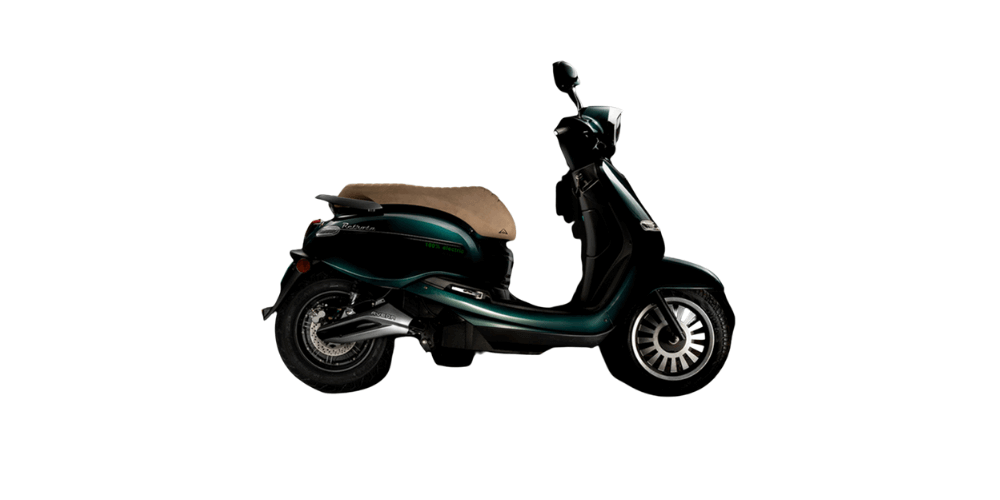 Available In
New Delhi
Mumbai
Ahamadabad
Pune
Chennai
Chandigarh
Ladakh
Puducherry
Hyderabad
Surat
Jaipur
Lucknow
Kanpur
Nagpur
Indore
Thane
Bhopal
Visakhapatnam
Pimpri & Chinchwad
Patna
Vadodara
Ghaziabad
Ludhiana
Agra
Nashik
Faridabad
Meerut
Rajkot
Varanasi
Srinagar
Aurangabad
Dhanbad
Amritsar
Allahabad
Ranchi
Coimbatore
Jabalpur
Gwalior
Vijayawada
Jodhpur
Madurai
Raipur
Kota
Guwahati
Solapur
Hubli and Dharwad
Bareilly
Moradabad
Gurgaon
Aligarh
Jalandhar
Tiruchirappalli
Bhubaneswar
Salem
Mira and Bhayander
Thiruvananthapuram
Bhiwandi
Saharanpur
Gorakhpur
Guntur
Bikaner
Amravati
Noida
Jamshedpur
Bhilai Nagar
Warangal
Cuttack
Firozabad
Kochi
Bhavnagar
Dehradun
Durgapur
Asansol
Nanded Waghala
Kolapur
Ajmer
Gulbarga
Jamnagar
Ujjain
Loni
Siliguri
Jhansi
Ulhasnagar
Nellore
Jammu
Sangli Miraj Kupwad
Belgaum
Mangalore
Ambattur
Tirunelveli
Malegoan
Gaya
Jalgaon
Udaipur
Bangalore
Kolkata
Ex-Showroom Price
1,28,000
Avera Retrosa's Key Specification
Range
140 km
Top Speed
90 km/h
Charging Time
3-4 hrs
Acceleration
(0-40 kmph) 8 s
Motor Power
3000 W
Battery
Lithium Ferrous Phosphate (LiFePo4)
Battery Swapable
Yes
Home Charger
Paid
App Availability
No
Warranty & Registration
Motor Warranty
3 Year
Battery Warranty
3 Year
Vehicle Warranty
3 Year
Charger Warranty
3 Year
License & Registration
Required
About Avera Retrosa
Avera Retrosa is the new high-speed electric scooter that is a fully stylish, premium, and modern retro electric scooter from the Avera lineup. It has some key features like Remote start, find your vehicle, Push button start, Passenger-footrest, and Keyless function. This electric scooter has many advanced features, including the attractive-looking round halogen headlight setup, LED turn indicator light, a stylish LED taillight, a long or comfortable seat, and stylish alloy wheels with tubeless tyres. Moreover, the suspension duties are managed by a Telescopic fork at the front and a Double shocker with a dual-tube Technology setup at the rear.

Further, It is equipped with a DISC brake setup at both the front and the rear end wheels with a standard braking system. The chrome-finished rear-view mirror, different style beige-colored seat, Silver-coloured grab rail, and modern retro body panels give a more attractive look to the electric scooter.
Additional features included:
USB Charging port

Anti-theft alarm

Side stand warning

Park assist function

Automatic transmission
Avera Retrosa Price
Avera Retrosa electric scooter is available in India at a starting price of RS. 128000.
What are the Colours available?
Avera Retrosa is available in 1 Colore color option, which is:
What are the Variants of Avera Retrosa?
There is no official announcement on its variant yet.
Range and Speed of Avera Retrosa
The ARAI has claimed it can travel a riding range of around 140 km/ch in a single charge with a top speed of 90 km/h. This electric scooter accelerates quickly in (0 - 40 kmph) 8 seconds. It has two riding modes – Economy and Sport Plus that will affect the range and performance
Battery and Charging details of Avera Retrosa
Avera Retrosa runs on a battery capacity of 3.4kWh which is portable. The Lithium Ferrous Phosphate (LiFePo4) rechargeable battery ensures that the scooter is long-lasting and can get easily charged. The scooter can quickly get fully charged within 3-4 hours from any charging stations across the country.
Motor and Power

Avera Retrosa
Avera Retrosa generates a max power of 3000Watt with a BLDC Hub motor, mounted in Rear Wheel with water and dust resistance allows you to ride on any weather and terrain.
Display and Screen details of Avera Retrosa
Avera Retrosa has a digital display with a digital dashboard. It has a digital console and digital clock to track the time. Also, it has a Speedometer and Odometer useful function, which provides speed information. Apart from this, a Trip meter informs kilometers your scooter has covered.
Rivals of Avera Retrosa
Available States
This scooter is available all over South India states like Tamilnadu, Karnataka, Andhra Pradesh, Telangana, and Northern states like Delhi, Utter Pradesh, Haryana, Rajasthan, and Punjab. Also, East India states like Kolkata. Besides Central India states like Madhya Pradesh and Western India states like Mumbai and Pune.
Subsidies and Tax exemption on Avera Retrosa
Avera Retrosa Electric Scooter gets a FAME 2 subsidy of Rs 51000 from the central government, which is already included in the ex-showroom price. You also get support from the state government, like Rs 11250 in Delhi, Rs 22,500 in Gujarat, and Rs 5,625 in Rajasthan. State subsidy varies from state to state. Ask your nearest dealer.
License, Registration, and Insurance
In this Vehicle, you get two modes, Eco and power mode, and its top speed that the company claims is 90 km/h. Talking about its motor, you get a BLDC motor with a peak power of 3000Watt and rated power of 1200 Watt. In this sense, it becomes an RTO scooter in which you need a license, registration, and insurance.
After-sales Service and Support from Avera company
Yes, we are providing standard service after sales for our clients.
Battery warranty of Avera Retrosa
Avera Retrosa gives you a 3 years/unlimited km warranty on a Lithium-ion battery. The lithium-ion battery pack charge takes 3 to 4 hours on a standard 3A charger. In comparison, a fast-charger option can quickly recharge it in 1.5 hours only on the optional smart charger.
Motor warranty on Avera Retrosa
It also has a 3 years warranty on Hub Motor.
Charger warranty Avera Retrosa
The scooter has an in-built charger, and the vehicle can be charged by plugging into a regular 5 ampere of the home power outlets. On Charger, you get a 3-year warranty.
Vehicle warranty
Avera Retrosa has a 3-years warranty on Vehicle.
Servicing of Avera Retrosa
The company provides 3 free servicing for Avera Retrosa. But you will have to get the service done on time. You cannot skip that date given to you by the center. If not received, do so on the given date, and some parts get damaged under warranty. Then you will not be able to claim the warranty. The company has so far appointed 30-40 dealers. Some issues may arise in terms of service in a new company.
Buyer Guide Of Avera Retrosa
What are the criteria you need to check before buying an Avera Retrosa electric scooter, and what are the things to keep in mind while purchasing so that you can choose the right scooter?
Check the Price
If we talk about the price of an Avera Retrosa electric scooter, it is slightly higher than a conventional scooter. Mostly it has been seen that the battery's price has increased somewhat at this time. But the government of India is allotting subsidies and tax benefits to electric scooters under the FAME-II scheme. So that its high price does not change the mind of buyers, for checking the Subsidies on your vehicle, you should check the ex-showroom price and check whether the central government has allotted any FAME-II subsidy.
Also, check whether the state government is giving any subsidy in your state, and you should check the road tax exemption. After all, you should check the on-road price in which you should match what things are being charged for the final price.
Check Range and Top Speed
You should check the Range of the Avera Retrosa electric scooter. It means kilometers it can run on a single charge. The Range of electric scooters is one of the significant aspects to look out for. An excellent electric scooter should have a good range that suffices your daily commuting needs.
You should also check the speed of the electric scooter, which means how fast the scooter can go per hour. Many electric scooters have good speed, while others do not have a reasonable rate.
Check Battery and Power
Battery plays a significant role in your Avera Retrosa electric scooter. You should also check the type of battery of the electric two-wheelers. There are 2types of battery mainly used for an electric scooter lead-acid (VRLA) battery and lithium-ion battery, but the modern battery is lithium-ion. This battery provides a good range along with an excellent top speed. It can quickly provide a range of 140 km with a top speed of 90 kmph above that would satisfy your daily needs. You should also check the battery pack warranty the scooter has for how many years of Warranty.
Check Motor Power & Torque
You should check the Motor Power rating and torque of the Avera Retrosa scooter. All electric scooters have a motor power rating available in units of watts. The motor watts indicate how much power the motor is capable of consuming. The Motor also plays a significant role in your electric scooter. It decides top speed, acceleration, climbing ability, power consumption, and performance. All electric scooters have one Motor, while high-performance scooters have two. The Torque force rotates your electric scooter's wheel and propels you forward.

Also, Check how much torque it generates to get good acceleration.
You should also check the motor warranty the scooter has for how many years.
Check Charging Option
Charging the optima electric scooter is also one of the crucial parts. Most Electrical scooters take less time, while some scooters take much time to Charge the vehicle. If you buy an electric two-wheeler, the automaker provides a home charger. But there is one thing that you should check the location where you live is if there is any public charging station available. Thinking that you need a public or home charging station is enough for you.
Check Dust & Water Resistance
Lastly, check the IP rating of the Avera Retrosa scooter to know its water resistance. All-electric scooters are not water and dust-resistant, and it is not advisable to ride them in the rain. The IP rating is called the "International Protection" (IP) code. The IP rating should be IP65 or IP67, and this type of IP rating is ideal. This rating is safe to drive during the rainy season, and you can save your vehicle from breakdown during riding during the rainy season.
How Does Avera Retrosa Electric Scooter work?
The power source of an electric scooter is the battery, and the Motor gives the drive

The Controller of an electric vehicle receives an electric pulse from the throttle (Switch/Sensor) and allows the electric current to flow from the battery to the Motor. The motor hub rotates at speed based on the Motor's current input.

The Electronic Controller draws power from the onboard battery to operate the hub-mounted motor during acceleration.

During deceleration or braking, the Motor converts the braking energy into electrical energy, thus charging the battery.
Final thoughts about Avera Retrosa Electric Scooter
Firstly, check the build quality of the scooter.

Secondly, Take a test drive of the vehicle.

Thirdly and most important, ask the showroom representative about the maintenance, when you need to do it, how to do it, and how much it will cost for servicing after verifying everything. If you think you are comfortable with it, only then decide to buy it.
Avera Retrosa's Owner Opinion
Good Things
Ride smoothly, there is no engine, so there is no vibration.
Batteries are sealed and maintenance-free.
This scooter increases the stability of riding.
Comfortable seat.
Could be Better
You might have difficulty if the slope is very steep.
You may not be able to carry heavy pillion riders.
Not enough storage space.
Avera Retrosa's Specifications
Avera Retrosa Competitors
Running Cost Calculator
Use this Electric Bike Electricity Cost Calculator to find out the cost it will take to charge for your electric bike. To calculate your monthly fuel costs, you only need to input the kms you travel in a day, enter the cost of fuel in your local area.
Your monthly running cost is
Rs. 79
per month