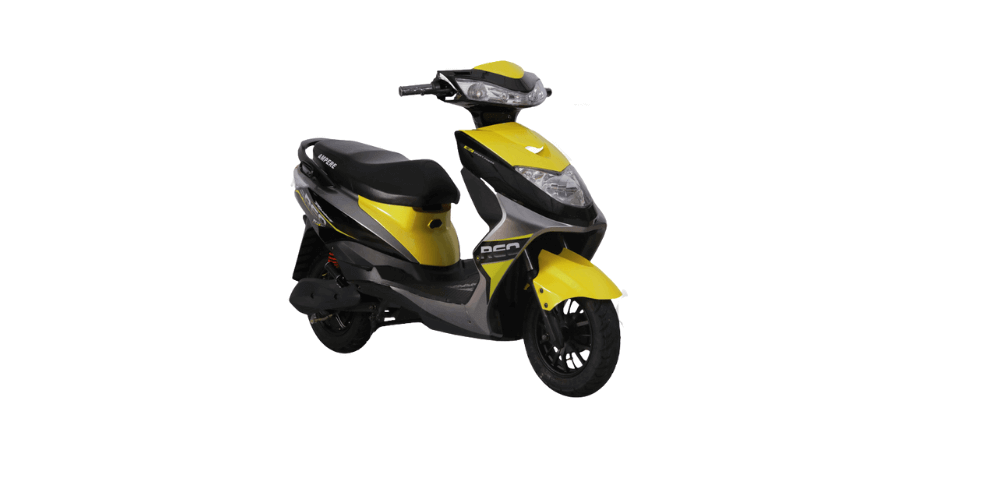 Version
Reo Plus LI
Magnus 60
Reo Elite LI
Magnus Pro
V48
Zeal Ex
Zeal
Ampere Reo LI's Key Specification
Range
60 km/h
Top Speed
25 km/h
Charging Time
5-6 hours
Acceleration
NA
Motor Power
250 watt
Battery
Lithium Ion
Battery Swapable
Yes
Home Charger
Free
App Availability
Yes
Warranty & Registration
Motor Warranty
1 year
Battery Warranty
2 years
Vehicle Warranty
NA
Charger Warranty
NA
License & Registration
Not Required
Ampere Reo LI
Ampere Reo Li is an electric scooter that gives you the dual benefit of comfort and style. Reo LI stands out as a reliable electric scooter.

Reo Li has edgy contours that give it a striking appeal.This variant is suspended by telescopic forks at the front. Braking is done with drum units on both sides.

This electric scooter is available at a genuine and pocket-friendly price. The scooter is quite decent from every angle. A Reo LI is a perfect option for first-time riders, college-goers, and elderly people.

The machine is designed to change the two-wheeler scenario of India which keeps its prime focus on petrol or diesel vehicles and adds to environmental degradation.
Available States
The company has captured almost every part of India. Some of the listings are Delhi, Gujarat, Maharashtra, Odisha, Karnataka, Tamil Nadu, Uttar Pradesh, Rajasthan, West Bengal, etc.
Price and Variant of Ampere Reo LI
The price of Ampere Reo li starts at 45,000. This scooter has no variant because it is the variant of Ampere Reo. The price can change depending on the color and other features.
Color option
Ampere Reo Liis available in four attractive different classic colors which are
Glossy Blue

Glossy sparkle red

Glossy Orange

Glossy Yellow
Display and Connectivity System
Ampere Reo li has a digital display. It gets the single indicator unit with LED lights and the headlight is a single piece unit with LED light for high and halogen for low beam. It will give you a digital speedometer and odometer. It has also a USB port for charging. It also has an under-seat storage box and a front storage box.
Brakes, Wheels, and Suspension
For a pleasant ride, The Ampere Reo Li has a telescopic forks suspension and rides on alloy wheels at both ends which are shod with tubeless tires.

Stopping power comes from drum brakes on both sides. It is made to run on 76-305 (16X3) alloy wheels. The rated load of the machine is 120 kg.
Battery, Range, and Motor
Ampere Reo Li is powered by a 48V 24 AH, Lithium-ion removable battery which comes coupled with a Hub-Mounted BLDC 250 WATT Motor.

With a charging time of 5 to 6 hours, the maximum range of the scooter is claimed to be 60km. On the other hand, the battery is tuned to make it run at a top speed of 25kmph.
Competitor of Ampere Reo LI
Warranties on Ampere Reo LI
Ampere Reo Li gives you 2 years of battery warranty and 1 year of Motor warranty (whichever is earlier). Typically scooters run around 6000-8000 km a year, so chances are that they won't need a replacement for 6-7 years.
Subsidy and Tax Exemption on Reo LI
Ampere Reo li two-wheelers electric scooter is not eligible for the FAME II subsidy scheme because subsidy the eligibility criteria for this scheme is a minimum range of 80 km and a minimum top speed of 40km/h but this scooter provides a maximum range of up to 65km.
License and Registration
However, you do not need any license and registration to ride this electric scooter because an electric two Wheeler having a power output of fewer than 250 watts and a top speed not greater than 25 km/h is classified as an electric bicycle or electric bike.
You do not need any license or registration in India for scooters that have a maximum speed of 25kmph or have a motor of 250w or less.



Servicing
We deeply care about the ownership of our customers. This means we won't stop at just selling the scooter to you. We have a dedicated service team in every city that we sell in. We always try our best to stand by our commitments. We have a very great team of highly experienced engineers, technicians, managers, associates, and executives.
Final Thoughts about Ampere Reo LI
Lastly, we would suggest that if you are going to buy an Ampere Reo LI electric scooter, then please follow the below passage;
Check the build quality of the Scooter,

Take a test drive of the vehicle, and

Ask the showroom representative about the maintenance, when you need to do the maintenance, and How to do it.

How much will it cost for servicing after verifying everything?
If you think you are comfortable with it, decide to buy it.
Ampere Reo LI's Owner Opinion
Good Things
Easy to manage due to lightweight.
Alloy wheels with tubeless tyres.
Comfortable seat.
Could be Better
The range could be better.
Long battery charging time.
Poor sales and Service reach.
Note:- These Pros and Cons are based on the real Ampere Reo LI Owner to whom our team has spoken
Ampere Reo LI's Specifications
Ampere Reo LI Competitors
Running Cost Calculator
Use this Electric Bike Electricity Cost Calculator to find out the cost it will take to charge for your electric bike. To calculate your monthly fuel costs, you only need to input the kms you travel in a day, enter the cost of fuel in your local area.
Your monthly running cost is
Rs. 79
per month