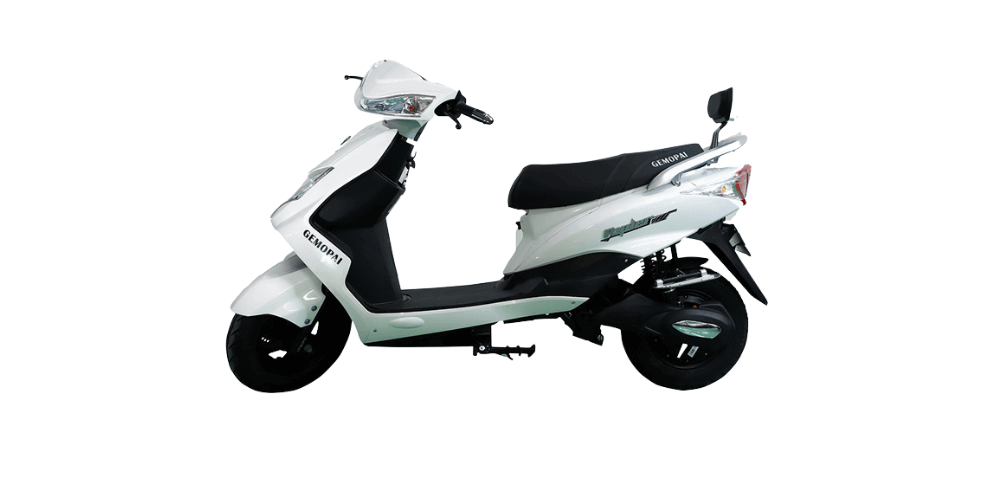 Available In
New Delhi
Ahamadabad
Pune
Chennai
Chandigarh
Ladakh
Puducherry
Hyderabad
Surat
Jaipur
Lucknow
Kanpur
Nagpur
Indore
Thane
Bhopal
Visakhapatnam
Pimpri & Chinchwad
Patna
Vadodara
Ghaziabad
Ludhiana
Agra
Nashik
Faridabad
Meerut
Rajkot
Varanasi
Srinagar
Aurangabad
Dhanbad
Amritsar
Allahabad
Ranchi
Coimbatore
Jabalpur
Gwalior
Vijayawada
Jodhpur
Madurai
Raipur
Kota
Guwahati
Solapur
Solapur
Hubli and Dharwad
Bareilly
Moradabad
Gurgaon
Aligarh
Jalandhar
Tiruchirappalli
Bhubaneswar
Salem
Mira and Bhayander
Thiruvananthapuram
Bhiwandi
Saharanpur
Gorakhpur
Guntur
Bikaner
Amravati
Noida
Jamshedpur
Bhilai Nagar
Warangal
Cuttack
Firozabad
Kochi
Bhavnagar
Dehradun
Durgapur
Asansol
Nanded Waghala
Kolapur
Ajmer
Gulbarga
Jamnagar
Ujjain
Loni
Siliguri
Jhansi
Ulhasnagar
Nellore
Jammu
Sangli Miraj Kupwad
Belgaum
Mangalore
Ambattur
Tirunelveli
Malegoan
Gaya
Jalgaon
Udaipur
Bangalore
Kolkata
Gemopai Ryder's Key Specification
Range
100 km
Top Speed
25 KM/H
Charging Time
4-5 hours
Acceleration
(0-40 kmph) 10 s
Motor Power
250 Watt DC
Battery
Lithium Ion (48 V / 24 AH)
Battery Swapable
Yes
Home Charger
Free
App Availability
No
Warranty & Registration
Motor Warranty
1 Year
Battery Warranty
3 Year
Vehicle Warranty
1 Year
Charger Warranty
1 Year
License & Registration
Not Required
Gemopai Ryder Overview
Gemopai Ryder is a low-speed electric scooter. This scooter has many advanced features, including a Remote start, Finding your vehicle, a Pass light, Push button start, Passenger footrest, Passenger backrest, Central locking system, Underseat storage, and Front storage box.

Further, it is handled by a DISC brake setup at the front and a DRUM setup at the rear end of the wheel. Furthermore, it is managed by Hydraulic Telescopic suspension at the front and Hydraulic Suspension at the rear end.

Moreover, It has some critical features like an LED headlight setup, an LED taillight, LED turn signal lamp, DRLs (Daytime running light), Keyless entry, and a Stylish alloy wheel fitted with tubeless tires.
Additional features included:
USB charging port

Anti-theft alarm

Anti-theft motor locking

Automatic transmission
Gemopai Ryder Price
The Gemopai Ryder, which comes with a Lithium Ion battery, has an ex-showroom price range from Rs 70,850 - Rs 84,302 in India.
Colour options
Gemopai Ryder is available in 3 attractive color options, which are :
Blue, Gold, and Red.
Variants of Gemopai Ryder
Not Available.
Range and Speed of Gemopai Ryder
The ARAI has claimed it can travel a riding range of around 100 km/ch in a single charge with a top speed of 25 km/h. Furthermore, this electric scooter accelerates (0-40 kmph) in 10 seconds quickly.

This scooter comes with a 3-speed mode in 1st mode speed of 19 km/h, 2nd mode speed of 24 km/h, and in 3rd mode speed of 25 km/h you see in the display, but in reality, the scooter touches the speed of 35 km/h.
Battery and Charging details of Gemopai Ryder
Gemopai Ryder runs on a battery capacity of 48V/24Ah Portable. The Li-ion rechargeable battery ensures that the scooter is long-lasting and can get easily charged. The scooter can quickly get fully charged within 4-5 hours from any charging station across the country.
Motor and Power
Gemopai Ryder generates a max power of 250W with a BLDC Hub motor mounted in the Rear Wheel with water and dust resistance that allows you to ride in any weather and terrain.
Display and Screen details of Gemopai Ryder
Gemopai Ryder has a digital display with a digital dashboard. In addition, it has a digital console and a digital clock to track the time. Also, Speedometer and Odometer have a practical function that gives speed information.
Apart from this, a Trip meter informs how many kilometers your scooter has covered.
Rivals of Gemopai Ryder
Available States
This scooter is available in these Indian states - South India states like Tamil Nadu, Kerala, Karnataka, Andhra Pradesh, and Northern states like Rajasthan. Also, an East Indian state like Bihar. Western India states like Goa and Maharashtra.
Subsidies and Tax exemption on Gemopai Ryder
You do not get a subsidy for Gemopai Ryder Electric Scooter because it is a basic scooter. The central or state government does not provide subsidies for such electric scooters.

I mean a top speed of 25 km/h and a motor power of 250 watts by a basic scooter. For the Government subsidy, an electric scooter must have a top speed of 40 km/h, which is possible when the motor power exceeds 250 watts.

The second is a range which should be 80 km. The company claims that the range of Gemopai Ryder is 100 -120 km, but the reality is that 100 is far away. It does not even wander around it.
License, Registration, and Insurance
Gemopai Ryder falls under the exemption category. Exempt category electric scooters have a top speed of 25 km/h and a motor power of 250 watts or less. So they are exempt; no license, registration, and insurance are required in such vehicles.
W

arranty on Gemopai Ryder
Gemopai Ryder gives you a 3 years/unlimited km warranty on a Lithium-ion battery. It also has a 1-year warranty on Hub Motor. The scooter has an in-built charger and can charge the vehicle by plugging into a regular 5 ampere of the home power outlets. On Charger, you get a 1-year warranty. Gemopai Ryder has a 1-year warranty on vehicles.
Servicing of Gemopai Ryder
The company provides 3 free servicing for a Gemopai Ryder. But you will have to get the service done on time. You cannot skip that date given to you by the service center. If not received, do so on the given date, and some parts get damaged under warranty.

Then you will not be able to claim the warranty. The company has so far appointed 30-40 dealers. some issues may arise in terms of service in the new company
Gemopai Ryder's Specifications
Gemopai Ryder Competitors
Running Cost Calculator
Use this Electric Bike Electricity Cost Calculator to find out the cost it will take to charge for your electric bike. To calculate your monthly fuel costs, you only need to input the kms you travel in a day, enter the cost of fuel in your local area.
Your monthly running cost is
Rs. 79
per month